Vatech CNT Digital X-Ray selected as the next generation's World Class Product of Korea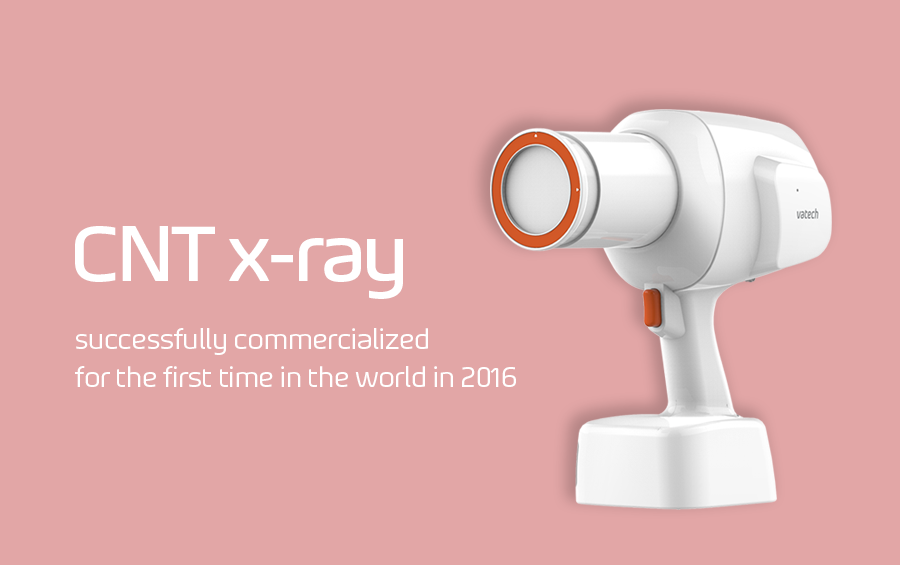 - Applied with CNT(Carbon Nano Tube) technology (successfully commercialized for the first time in the world in 2016)
- Features outstanding photograph quality without unnecessary radiation exposure, as well as lighter weight
- With the global digital transformation rate being only 6%, this product is anticipated to lead the rapidly growing digital x-ray market
Vatech, a company specializing in global compact-sized CT and x-ray, has announced that the 'oral x-ray device for dental diagnosis' with CNT technology has been selected as one of the World Class Product of Korea. Vatech's 'digital panorama device for dental diagnosis' has also been chosen as a World Class Product of Korea for 12 consecutive years.

The newly-selected oral x-ray device EzRay Air P is a portable digital x-ray that enables convenient photography in various dental care facilities. It is the main model of the EzRay Air series that recorded over 15,000 sales globally in the last 3 years.

Vatech featured 'EzRay Air' series in 2016 by commercializing CNT technology for the first time in the field of medical equipment. The existing analog method was by heating the thin metal filament with a high voltage of more than 2,300 degrees. In this process, the patients and medical care provider were exposed to radiation. In contrast, Vatech's CNT-based x-ray operates with digital electric signals, which significantly reduce the chance of unnecessary radiation exposure from heating. It also offers rapid X-ray imaging and excellent image quality to users.

This product is the lightest among existing products. The carbon nano tube developed by Vatech is 1/5 size of the analogue tube, showing its superbness in size and weight. All products in the EzRay Air series are approximately 1 kg, making it convenient to be used while being held by just one hand. Vatech has recently utilized this technology to launch a portable medical x-ray so that it can be used in temporary medical environments such emergency rooms, COVID testing centers, ambulances and more. This enables Vatech to expand its business areas into the medical care field.

Vatech CEO Hyun, Jeong-hoon has said that "Currently 94% of the oral x-ray devices are analogue products. Vatech has managed to secure 6% market share in only 3 years with its portable digital x-ray," and that "With the COVID 19 pandemic, the safety, accuracy and convenience of medical devices are more important than ever and the transformation towards digital x-ray is accelerating. We will do our best to quickly lead the dental and medical x-ray market, based on Vatech's global network of over 100 countries."