VATECH America 2016 Fall 3D Symposium
VATECH America held a 3D Symposium in Charlotte, North Carolina on November 3rd to 4th. Fifty dentists had attended the symposium, and during this event, all the participants had a meaningful time with a series of lectures and live implant surgeries.
On the first day, the topics of the lectures focused on the"Introduction to 3D and why you need it", "How to make surgical guides", and "Guided implant surgery using CBCT images". Amongst them all, there was a newly introduced subject, where the speaker spoke about creating values in human relationships via new technologies. It was the first time we had covered all topics including, new technology, quality image, practice, daily concerns and the way to build a meaningful life. These topics were enough to amplify this professional meeting.
On the next day, there were a series of live lectures, and focus on the progress of implant surgery with 3D images. During the lecture, Dr. Engel had covered all the steps of implant practice in real time: surgery planning, patient consultation, and live implant surgery. One of the key subjects of this lecture centered on how to build effective communication with a 3D viewer, that makes patients comfortable and relieved.
All of the participants were highly satisfied with this 3D symposium, which resulted in their decisions to upgrade their current X-rays to 3D units. This event was originally planned to give thanks to our customers. But when we saw how the doctors showed even more gratitude towards us, we realized that a well-planned symposium can be appreciated and meaningful to all of us. VATECH will keep trying to have more valuable events, and hopefully you will join us next time.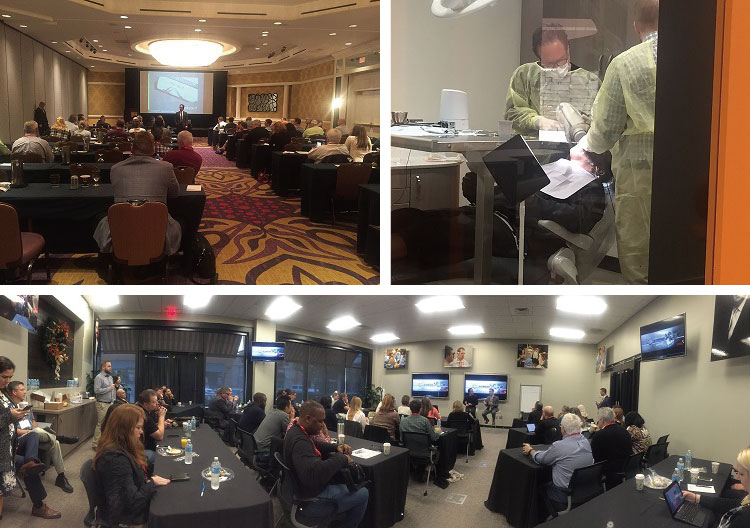 Images are taken by VATECH America marketing team.
VATECH America http://www.vatechamerica.com/