Beyond 2D, Depth Added Panorama
-VATECH America, Inc. announced the launch of the PaX-i Insight on August 21st, 2017.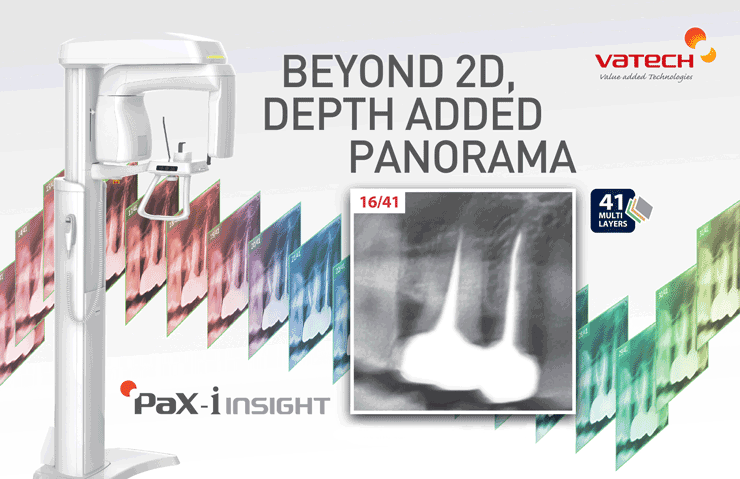 The newest digital panoramic radiographic system that pushes the limits of 2D digital imaging. The PaX-i Insight, built with Vatech's latest CMOS technology, delivers the unique ability to capture depth-added panoramic radiographs, offering never-before-seen depth and clarity to 2D digital panoramic images.
"Vatech continues to expand the boundaries of what is possible in dental imaging," said Louis DeFilippo, Vice President of Sales at Vatech America. "Ultimately, our goal is to increase the quality of patient care. To do this, we must provide our clinical partners world class service and support as well as exceptional imaging solutions. With this core philosophy in mind, we are incredibly excited to present the next evolutionary step forward in dental panoramic images with the PaX-i Insight."
Providing doctors a staggering 41-layer digital panoramic radiograph, the new PaX-i Insight is designed especially for endodontists, pediatric dentists, as well as general practitioners. The system also provides an optional, next-generation cephalometric arm which is capable of capturing a lateral cephalometric radiograph in 1.9 seconds.
"With this system, we are also proud to introduce our next generation, Rapid CephTM technology," said Michael Yu, Product Manager at Vatech America. "With these shortened cephalometric acquisition times, we are confident that doctors will find not only an improved image quality, but also fewer motion artifacts in their cephalometric images."
With a capture PC and monitor included, the PaX-i Insight offers a comprehensive, cutting-edge 2D imaging solution which also raises the level of diagnostic value of panoramic images to new heights.
For more information, please contact us.