Vatech Networks Receives 'Excellent Workplace for Reading Management in 2023' Award
Vatech Networks Receives
'Excellent Workplace for Reading Management in 2023' Award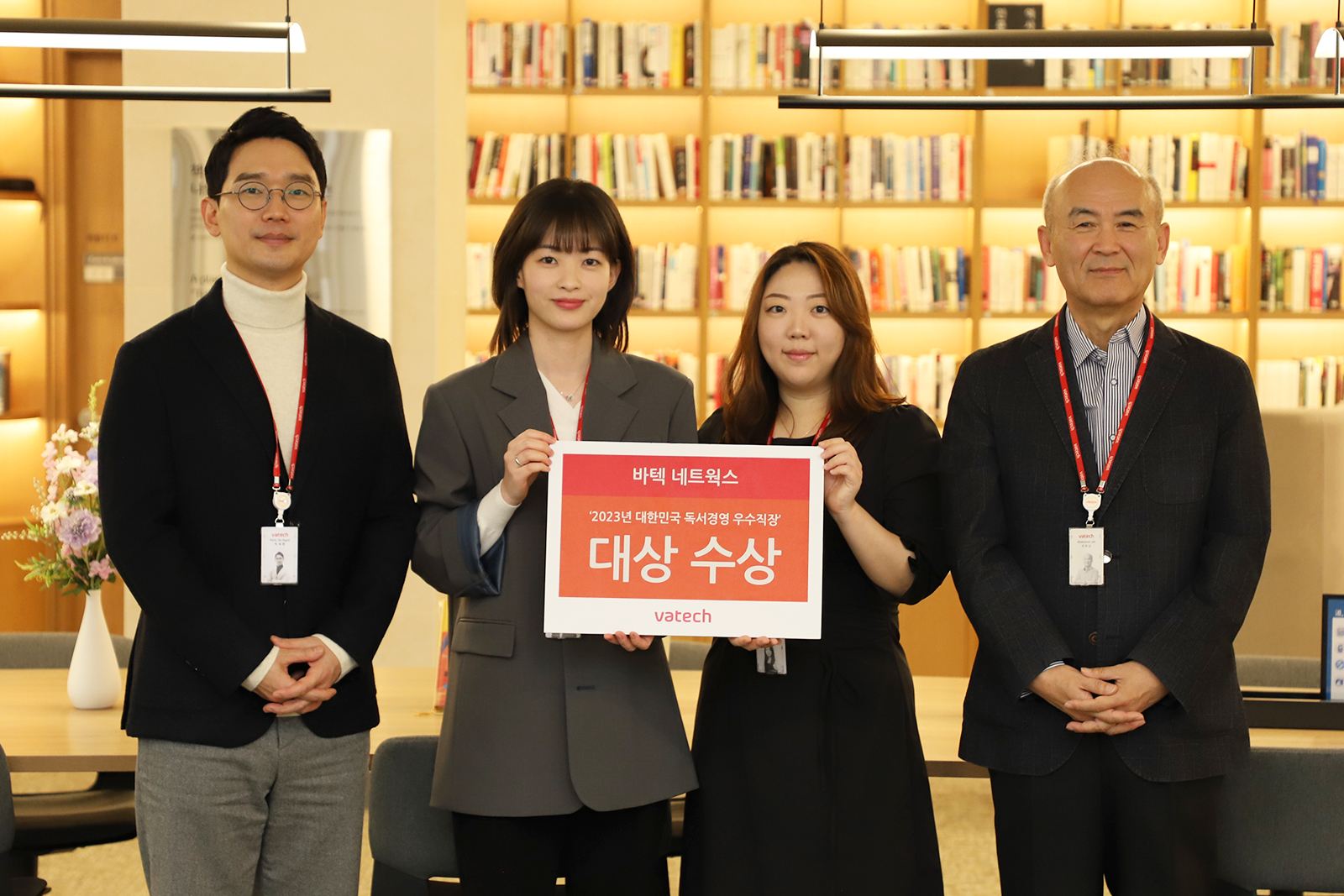 • Recognition for promoting a reading culture and contributing to the spread of reading culture globally, focusing on family, local communities, and beyond.
• Aiming to practice happiness through contemplation and contribute to creating a better world.
Vatech Networks, a global healthcare group, was honored with the top award at the '2023 Excellent Workplace Certification for Reading Management,' hosted by the Ministry of Culture, Sports and Tourism and organized by the Korea Management Association Consulting on the 15th.
The 'Excellent Workplace Certification for Reading Management' is a program initiated by the Ministry of Culture, Sports and Tourism to discover companies and institutions that promote a reading-friendly culture within the workplace. Vatech was selected as the best among supporting companies and received the Minister of Culture, Sports and Tourism Award.
Vatech Networks, the holding company of the Vatech Group, operates globally with 8 subsidiaries, including two listed companies and 24 overseas branches. It provides medical devices and solutions for dentistry, hospitals, and animal hospitals worldwide. The group includes Vatech, the world leader in dental X-ray imaging equipment; Rayence, a leading X-ray detector company; Vatech Mcis, specializing in the distribution and materials for dental medical devices; and Woorien, specializing in medical devices and solutions for animal hospitals, among others.
Vatech Networks encourages reading throughout its management. They support employees in growing professionally through reading, conduct experiential programs that encourage contemplation through reading, and have established an employee-only library, 'Do(道), Seo-gwan(書館),' in the office, encouraging reading during working hours. Employees can request and borrow books, enabling uninterrupted reading anytime, anywhere. The leadership team reads and shares insights from selected books, purchases recommended books, and distributes them to employees. The company has a dedicated organization for reading management and continues activities such as relay reading and offline reading gatherings to raise awareness of reading.
Vatech Networks also hosts various reading activities involving employees' families. Activities include writing contests participated in by employees and their families, gifting books to employees' children upon graduation or admission, and conducting parent education to promote the importance of writing. They provide children's newspapers to employees' children, offering an opportunity to read with parents and improve literacy. Additionally, the company organizes the 'Challenge Golden Bell,' where children are invited to the company during the summer to participate in a quiz based on newspaper reading results. Vatech Networks also engages in unique corporate culture activities, such as providing a special reading space for employees outside the office, encouraging employees to turn their living rooms into spaces for reading and communication, and offering family communication programs.
Vatech Networks' reading management extends beyond the company to reach marginalized neighbors and communities both domestically and internationally. The company delivers monthly books to children in a group home in Yongin, dedicated to child abuse victims, encouraging their reading activities. Employees also participate in reading activities with these children. Vatech Networks collects unread books from employees' homes, shares them within the company, and consistently donates the proceeds to a fund supporting children with rare diseases.
The company's philanthropic efforts are not limited to the domestic sphere but extend globally. Vatech Networks has been conducting projects to improve the lives of residents and children in the mountainous region of Dai Tu in Vietnam for several years. In 2021, employees funded and built a 3-story 'Educational and Cultural Center' in Dai Tu, equipped with a library and educational facilities. VatechMcis and Ewoosoft, Vatech Networks' subsidiaries in Vietnam, and headquarters employees donated around 10,000 books and operate reading and education programs. The company has been supporting the self-development of children in difficult environments through continuous exchanges and employee-children scholarship programs.
Vatechewoo Holdings CEO Lee Byung-nam stated, "Vatech Networks has consistently cultivated a culture of reading management as one of the ways to practice happiness and improve the lives of its members." He further emphasized that the award is meaningful as it recognizes that the driving force behind Vatech Networks' rapid growth in the global market lies in its corporate culture. (End)